Does your sales team understand the rest of your business?
We see a lot of organizations suffering from disciplinary disconnect. This can be very detrimental to an organizations success. Both top line sales and net income. The sales organization must have a thorough understanding of the product/service they are selling and how their operational partners will execute the various commitments they make. Is this happening in your organization?
How much time does your sales team spend with their counterparts in operations? If your answer is minimal, rethink your organizational structure to form a more cohesive unit moving in tandem to the same goal. Make sure each discipline understands what the other is doing.
This needs to start by creating clear, concise messaging behind the companies KPI's (Key Performance Indicators). Once you have a collective goal, you can break it down to individual KPIs based on each discipline. The most important part is making sure sales KPI's align with those of operations. While different in nature, they need to compliment each other rather than compete with each other.
Example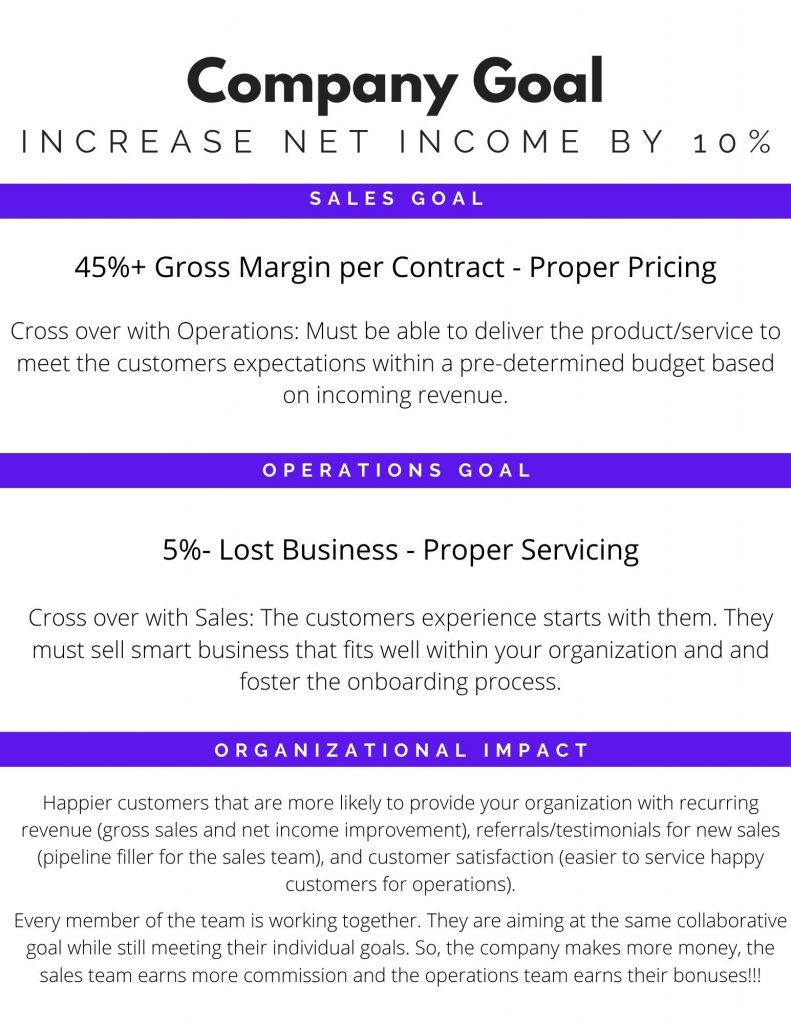 Then, make them public. Communicate often so everybody knows where each other stands. This enforces an entirely new level of understanding and accountability. Leading to greater teamwork and overall performance.
Maintain sustainability by implementing inter-departmental communication through meetings and team building activities. Partner individuals up to form deeper connections with each other. Share wins together and problem solve struggles as a cohesive team.
We all win when we work together! We can't work together if we don't understand each other.
If your sales team struggles to qualify customers, overcome pricing objections, or set proper expectations, then reach out to Kassner Keen (https://kassnerkeen.com/contact-us/) to see if a keen collaboration is right for you!